VeganCowboyScientist.org . Santa Monica / L.A Calif: Famous Friends with Wonderful Hearts . Home
---
Wonderful Hearts are found in some Famous Friends!
Each here are found with common interests and concerns for the good of humanity, all creatures, the environment and the future of all life!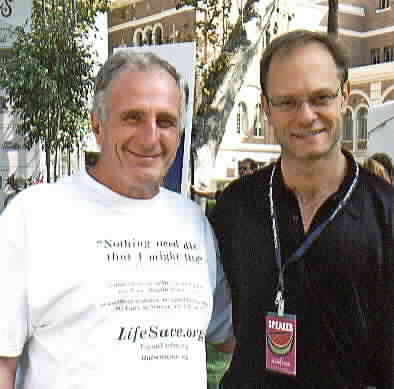 This trip to LA to present at World Fest in Van Nuys and subsquent lectures in L.A. and labors in Santa Monica afforded me the opportunity to also interact with the "real person" part of the theater industry's finest performers.
---
At USC, David Hyde Pierce of the TV show "Frasier" discussed the care of his father; and of the challenges his Father's Alzheimer's brought to David and all his family.
My focus here of course is on its base pathology then teaching that understanding and the lifestyle changes needed to prevent its development in the first place.
Like anyone else who has lost a loved one to Alzheimer's, David hopes that the understanding of its causes will afford him and future generations Alzheimer-free, fully productive lifes and careers, and continuing fullfilling "Golden Years" experiences.
Both of us know that our "Golden Years" health and clarity of mind depends fully on how well we protect our health now with correct diet, clean environment, activity, healthy emotions and establishing positive mindsets and habits early in life; all guarded within careful compliance to the expanding understanding we now have of the disease's causes and processes!
David Hyde not only is a great performer, but is also a great human being! He labors to bring healing in his quality comedy and in its resultant good laughter! He also labors to personally show and teach the healing value of kind care and genuine love! How honored I am to find moments of common concern for humanity with this kindest member of the truly healing arts -- which is his personal living with compassion and concern for all other living human beings and all other living things! -- This is the prime part of Alzheimer's (and any other disease's) best prevention!
Do you want to learn more? -- for yourself and those you love? Then ask! -- and be willing to seriously listen! and make serious change! Now! [TLR Dec 7 2001]
---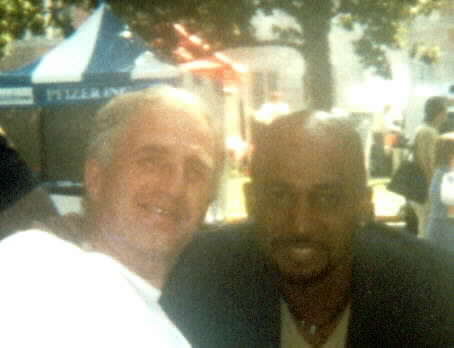 Montel Williams has learned from his own M.S. and wishes to help other M.S. suffers become more abled to live as disease free as possible. He courageously speaks out about letting the body be treated naturally, nourished and supported correctly, and then be allowed to heal itself! He knows from his own experience that this works. At USC He boldly tempered the Drug and Medical intrusion proceedures promotion and standard AMA methods being pitched by the debating USC Doctor. With Larry King participating and moderating the discussion, Montel held his ground as he responded to the Doctor's skepticism on his "unproved" natural treatment! Unwavering Montel held his stand on the wisdom of learning what the body needs to heal itself, simply supporting those needs, and to reduce or stop the intrusion and antigenic side effect offenses brought to it with drugs and surgical interference! (See: SpotlightOnHealth-MontelWilliamsMSFoundation . MontelWilliamsShow)
---
Montel Williamsalso made connection (my encouragement added) to Nancy Yaeger, a wonderful functioning mother and survivor of M.S. Nancy is the Founder and President of the M.S. Awareness Foundation, a resource in education for special exercise for those challenged with M.S. (See her sharing with Montel in more photos here. Then visit her website: M.S.Awareness.org.)
---
Marilu Henner-- The next day at USC, again I enjoyed another beautiful, gracious and very courageous woman of the screen, lovingly using her fame to speak out and benefit humanity, in particular children! Star, Marilu Henner (of Taxi) sweetly spoke out for the correct nutrition (and care) of children. She now knows where we have made serious nutritional and behavioral errors with ourselves and now most importantly with our developing youngsters. She made me proud as she boldly held her ground and told everyone attending, including the skeptics of the USC Medical Faculty and staff, to get the children out of the slaughter house, chicken coop, milk shed, convenience store, fast food industry and junk food vending machines -- and the damaging medicine chest -- and back into the garden for true healing! (Like Montel above -) Her own and her children's own health is "a scientific study" enough for her, too!
Her beauty and clear presence of mind was irrefutable! - and that alone disarms even the hardest skeptics. She is her own articulate and attractive, perfectly "photograph-able" evidence of the truth!
I and many more of us laboring for humanities nurturing good are grateful for Marilu! Once her courage with its carried wisdom has touched you, you will be grateful too! There is so much balancing good now found coming out of her and the gathering of the many other caring hearts of Hollywood! I am ferreting them out and finding true compassion there! They are trying to use their professional privilege to cameras and microphones to reach the world, to undo much of their media's inflicted ills and bring the world good instead! You need to see their efforts, appreciate their courage, then learn and be benefited by the good coming from it!
See Marilu sharing her intelligent personal advice for children's health and family rearing, given with her love for both you and your children: Marilu.com
---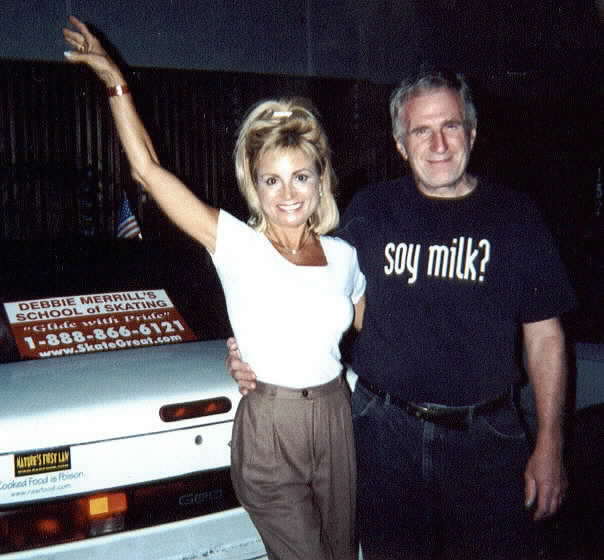 "Pretty is as Pretty does!"perfectly fits the frame and soul of this beautiful lady. Kindly gracious, as well as gorgeous, Debbie Merrill performs miracles on her blades, on her feet and in her acting, but she also performs more important miracles in her life in her reaching out to people in a spirit of healing, as she lives the best active example that she knows and vigorously encourages the great healing lifestyle choices, nourishment and kindness that is embodied in it; then enjoys for herself (and hopefully you will too) the freedom from disease, extended life and greatest fun as the result!
She and I had just enjoyed a meal of living foods; precisely that which facilitates for her (me and for anyone else, too) the freedom of an already lengthened and enduring life of painless gliding, joyous freedom of motion, clear headedness for creativity and wise human interaction, and to facilitate her rewarding athletic skills and beauty!
You ought to learn from her intelligent lifestyle choices, glean from her advice and be encouraged in opportunities for your own improved health, fitness and fun. (see: SkateGreat.com and Debbie at LivingLightHouse Thanks-giving)
---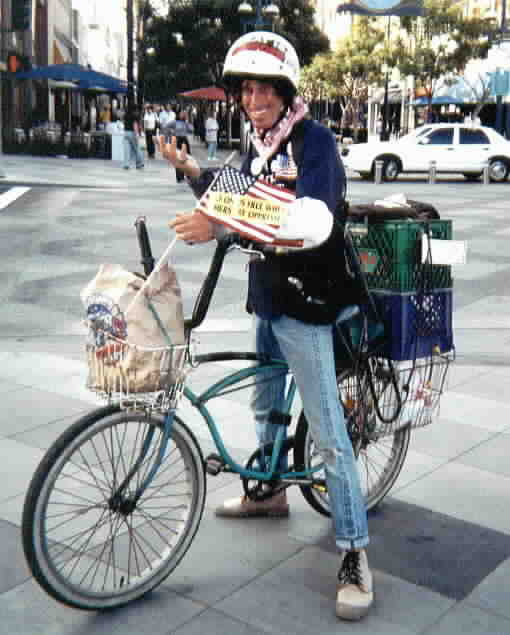 . Jingles, AKA Robert Newman -- caught in a quiet moment here -- and certainly not as pretty as Debbie above -- but he is as visible as a "beautifully?" flamboyant Icon-of-Activism for humanity, Earth and and kindness for all her creatures, as he "tables" his booths and displays on the Santa Monica 3rd Street Promenade and at the Venice Beach "Boardwalk".
He willingly challages you and openly confronts that inhumanity of humanity often served up in Styrofoam and paper in the Fast Food super corporations, and he decries man's industrial irresponsibility to himself and the whole ecology, and the self serving manipulation of politics and community psychology for property, power and profit!
He boldly labors to educate the public with his unique flare, and with the blunt and often painful truth in his own brash theatrical style. Eccentric? -- oh yes! Biologically Correct and Compassionate? -- oh yes!.. "In your face" and Effective? -- also a very firm YES! ...Go and see him there in Santa Monica and Venice Beach, California, for yourself!...You can not miss him -- No matter how hard you try!
See what I mean by clicking on Jingle's photo or here! Also see his AnimalFreedomFighters.org if you are ready.
---
Return to VeganCowboyScientist.org , Schedule , TomRodgers.org , WaterAndLife.org-- to see reason for my extended stay in Santa Monica/LA . More photos at USC with Montel and other friends
. More Santa Monica L.A. Photos (Debbie, Nece, Buzz, L.A. Scenery)